Nancy is located in the north-east of France close to Germany Luxembourg and Belgium. It is:
30 minutes away from Lorraine-Airport by car or shuttle,
90 minutes away from Roissy-Charles de Gaulle Airport (Paris) by TGV (High speed train),
75 minutes away from Luxembourg international Airport.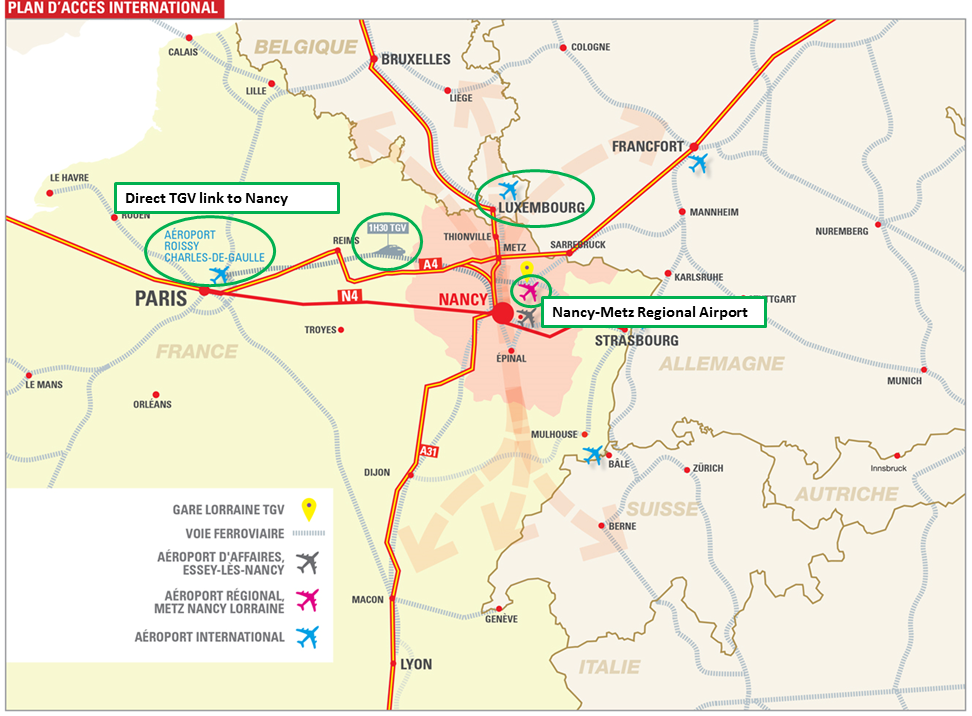 The TGV station is in the city center close to "Prouvé congress Center". It is the easiest way to connect to most of European cities:
90 min to Paris,
90 min to Luxembourg,
1h15 to Strasbourg,
2h15 to Basel.
How to arrive at Nancy
By airplane
From Paris Charles-De-Gaulle Airport: The TGV (High speed train) station is in the heart of the airport (Terminal 2). Take a TGV to "Nancy Centre Gare" via Lorraine TGV. A TGV will take you until Lorraine TGV station, then a shuttle is synchronized with the TGV to take you until "Nancy Centre Gare".
From Luxembourg Airport: a shuttle will take you to Luxembourg railway station. Many trains per day are scheduled to Nancy Gare.
From Lorraine-Airport: This regional airport is located 30km away from Nancy Center. Shuttles (Buses) to Nancy are synchronized with airplanes arrivals.
By Train
For nearest European participants, Nancy "Gare" railway station is connected to most of the European cities (Basel, Luxembourg, Frankfurt, Munchen, Brussels,).
From Paris Center: Take a TVG from the station "Paris Gare de l'Est" until "Nancy Centre Gare" (90mn).